Written by:
Environmental Finance Center Network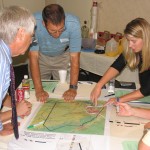 Location: Online – your computer!
Cost: FREE!
Date: 03/12/2014
Time: 2:30 – 3:30 pm EST / 11:30 – 12:30 PST
Small drinking water systems have many options for partnership and regionalization.  This webinar explored the water company model, where a single entity centrally manages several water systems that are not necessarily physically interconnected.  Through central management, the water company is able to control costs, access certified system operators and achieve economies of scale for the small systems it operates.  The webinar featured one water company, Aqua North Carolina, that manages almost 800 public water systems in the state.  We discussed the advantages and challenges of the water company model and highlight what makes a system attractive for a water company to acquire.