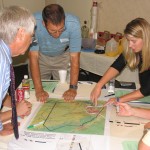 Location:
 Online – your computer!
Cost:
 FREE!
Date: 02/12/2014
Time: 2:30 – 3:30 pm EST / 11:30 – 12:30 PST
Small water systems should consider various methods of partnering with other water systems as a way to control costs.  One option for systems is to merge with either one or multiple other systems to form a new, larger entity that is more able to take advantage of economies of scale.  This webinar highlighted the creation of the Lowcountry Regional Water System in South Carolina from five small town systems in Hampton County and focused on the financial advantages and challenges of system mergers.