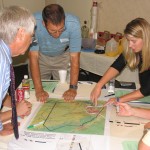 Location:
Online – your computer!
Cost:
FREE!
Date: 02/05/2014
Time: 2:30 – 3:30 pm EST / 11:30 – 12:30 PST
 Small water systems considered various methods of partnering with other water systems as a way to control costs.  One common way for systems to partner is to construct a physical interconnection with another system to buy or sell water regularly or for emergencies.  The agreement between the two systems that are physically interconnected is controlled by a contract.  This webinar explained tips for making these contracts between water systems successful and will present the guide "Crafting Inter-Local Water Agreements: Tips Relating to Issues You May Not Have Thought of or that You Were Hoping to Avoid," which was based on a comprehensive review of inter-system water agreements.