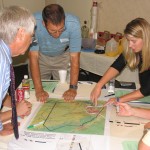 Location:
 Online – your computer!
Cost:
 FREE!
Date: 04/09/2014
Time: 1:30 – 2:30 pm EDT / 10:30 – 11:30 PDT
Often small systems are reluctant to consider regionalization or collaborative approaches to solving problems because they fear the loss of autonomy.  This webinar showcased one regionalization/collaboration option used by a group of water systems in central Texas.  These systems found a way to work together to solve common problems while also maintaining a high degree of autonomy.
In 2000, 13 water systems in Falls, Hill, Limestone, and McLennan counties formed the FHLM Water
Supply Corporation to address common water supply and water quality issues.  Each of the water systems maintained their own system while providing a representative to serve on the FHLM Board.  This approach allowed them to have the benefits of a regional solution without giving up their individual systems.  Several of the water systems that make up FHLM have naturally occurring arsenic levels that exceed the Safe Drinking Water Act (SDWA) maximum contaminant level (MCL). They are hoping to use the FHLM Water Supply Corporation to develop a source of compliant drinking water that can be delivered to the individual systems. The systems would then be able to blend the water (if arsenic levels allow) or use the new source exclusively.  FHLM was recently notified that they were the top applicant for funding for a regional feasibility project from the Texas Water Development Board.
We explored the compliance issues and water supply concerns that led to the formation of FHLM, the structure of FHLM, and the upcoming feasibility study that will hopefully identify the best means of meeting compliance and resolving water resource concerns.