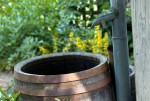 Location:
 Online – your computer!
Cost:
 FREE!
Date: 04/24/2014
Time: 1:30 – 3:00 pm EDT / 10:30 – 12:00 PDT
If you have been to an asset management training or have considered or even started asset management activities, you probably have generated many questions about the process. For example, "Where is a good place to start?" or "What options do I have for mapping my system?" or "How do I number my assets?" You may have specific questions regarding something you've tried and had difficulty with.  This webinar provided individuals with a unique opportunity to ask any and all questions regarding asset management or implementing asset management. This webinar was hosted by the Environmental Finance Center Network.