Written by:
Erin Riggs and Jeff Hughes
A synthesis of the financial implications of consolidating water utilities based on the experience of eight communities.
The US Water Alliance and the UNC Environmental Finance Center are committed to advancing fact-based, common-ground solutions to our nation's most pressing water challenges. Currently, the water sector is extremely diffuse. There are tens of thousands of water utilities and authorities in America. This is also a time of growing complexity and unprecedented change in the water sector. Collaboration and cooperation will be essential to securing our nation's water future. As the adage goes—there is strength in numbers. Consolidating water services is one of many potential approaches that enables utilities to meet today's needs and tomorrow's demands. Pooling resources and streamlining operations and decision-making can enhance efficiency, but to get there, leaders need a clear picture of the payoff to justify the journey. Information about consolidation options and financial impacts is essential to understand what this approach can do to increase financial stability in the water sector.
To address this need, the US Water Alliance and the Environmental Finance Center teamed up to synthesize the body of evidence about the financial outcomes possible with water utility consolidation. This report examines the experiences of eight communities that consolidated utility service in different ways and for different reasons. Breaking down silos in water will require skilled leadership and a deep understanding of the tools and methods at our disposal. To that end, we hope to grow understanding by providing insight into what financial impacts communities might expect through consolidation.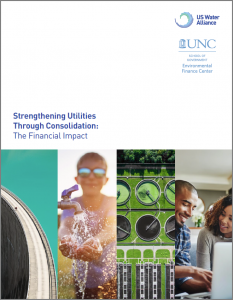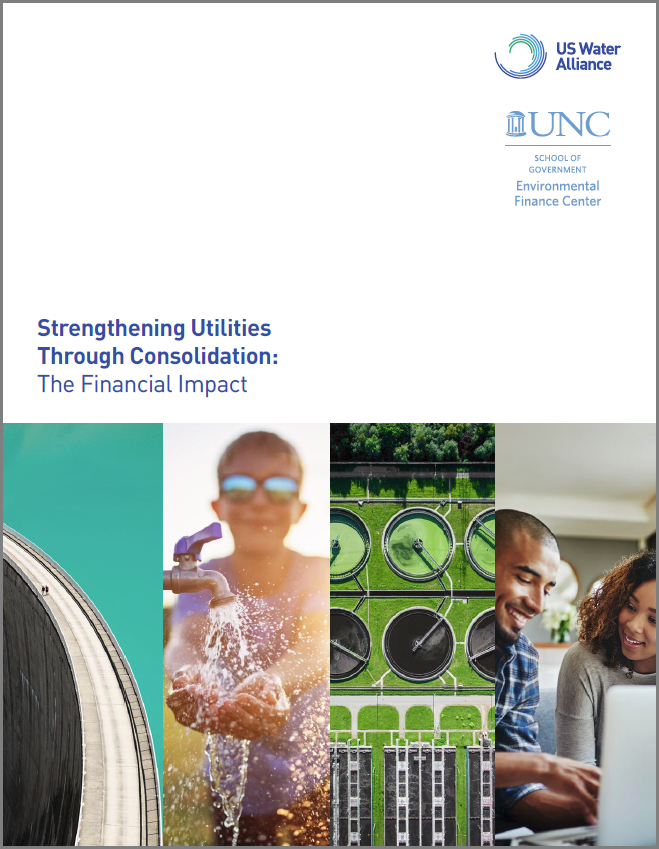 The US Water Alliance and UNC Environmental Finance Center would like to thank Erin Riggs, Project Director at the Environmental Finance Center, and Emily Simonson, Program Manager at the US Water Alliance, for their substantial research and writing contributions. We also want to thank Katy Lackey, Program Manager at the US Water Alliance, and graduate student researchers, Katy Hansen and Laura Landes from Duke University and Krysten French from the University of North Carolina, who contributed to this project.
This report was informed by an experienced set of water sector leaders. Thank you to all those who took the time to be interviewed and provide feedback on this report, including:
C. Tad Bohannon, Chief Executive Officer, Central Arkansas Water
Jesse Cain, City Manager, City of Colusa
Maureen Duffy, Vice President, Communications and Federal Affairs, American Water
Jim LaPlant, Chief Executive Officer, Iowa Regional Utilities Association
Shelli Lovell, General Manager, Marshalltown Water Works
Kenny Waldroup, Assistant Public Utilities Director, City of Raleigh
John Walton, Director of Marketing, Logan Todd Regional Water Commission