Written by:
Shannon Pepper, Program Coordinator, Southwest Environmental Finance Center
In the face of rapid climate change, water systems need to adapt. The recently passed Infrastructure Bill will include a flush of federal funding targeting water infrastructure, but what does (and what should) "water infrastructure" include? Industry definitions are changing to include "green" and "localized" in addition to traditional, or gray, infrastructure.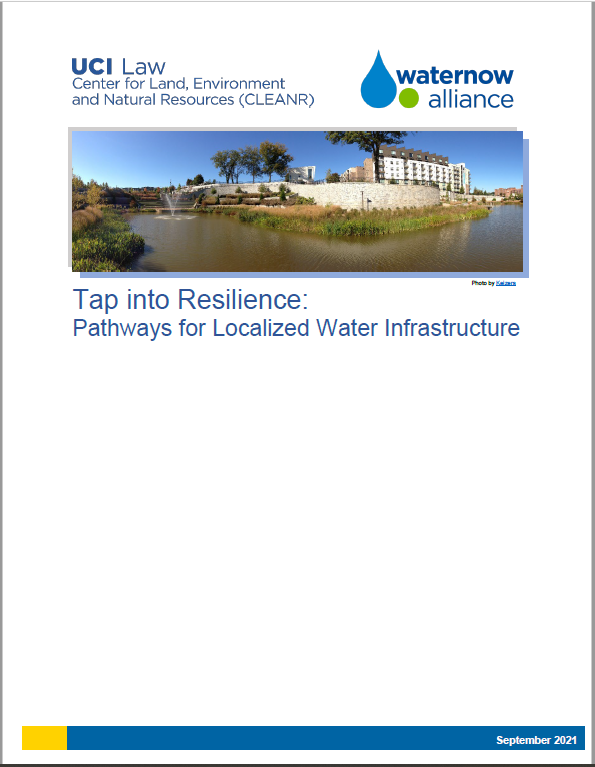 The 2021 "Tap into Resilience" report lays out this turn in U.S. water, wastewater, and stormwater systems. University of California Irvine Law School and the WaterNow Alliance convened a 2019 roundtable discussion that informs much of the report, including voices from water operators, scholars of ecology and law, EPA officers, and staff of water-focused NGOs such as The Nature Conservancy and Los Angeles Water Keeper.
The report argues that water systems adapting to a rapidly changing climate need two things: 1) Localized Water Infrastructure (LWI) – distributed water systems located at or near points of use that extend beyond the boundaries of current centralized distribution systems; 2) the institutional will to make LWI projects happen. 
There are, however, many barriers that water and wastewater utilities face when attempting to implement LWI. The report identifies and describes these main barriers, providing recommendations ("Action Items") and case studies of utilities and municipalities that are implementing LWI to address specific problems and goals.
Localized Water Infrastructure: Why We Need It
Centralization has been the 20th-century norm for many US water systems. The report argues that centralized systems, utilizing gray infrastructure, are not flexible or affordable enough to adapt to a rapidly changing climate. This lack of flexibility is also exacerbated by the lack of interconnection (the report references this 2014 report) between drinking water, wastewater, and stormwater systems. The isolation of these three systems can make local and community collaboration difficult and labor-intensive, if not impossible. The report also argues that the cost of installing and maintaining gray and centralized infrastructure can deepen water access inequities (the report cites this EPA study). Communities in rural areas often lack the resources to install costly centralized infrastructure to begin with.
To address the shortcomings of centralized and gray infrastructure, the report argues for implementation of an LWI framework at a range of scales: from individual residences to town- or city-wide systems.  
The report identifies four broad categories of LWI:  
What can institutions do?
The report provides clear, actionable steps that governmental institutions, non-governmental organizations, and universities can take to reduce the obstacles utilities face when attempting to implement LWI. The comprehensive "Action Item Matrix" of recommendations at various institutional levels located on page 69 of the report includes:
What can utilities do?
The report suggests that utilities and municipalities interested in implementing LWI: