Written by:
Patrick J. Lynch, Program Manager, Averi Davis, Program Associate, & Isabel Valentín, Intern, Syracuse University Environmental Finance Center
On September 18, 2022, Hurricane Fiona made landfall in Puerto Rico. The Category 1 Hurricane, which hit five years after Hurricane Maria and Hurricane Irma devastated the island, caused flash floods and landslides and left hundreds of thousands of people without power or reliable water supplies.
In the weeks following Hurricane Fiona, community-led aqueducts in Puerto Rico recruited volunteers from their neighborhoods to restore drinking water service to their communities. This blog looks at some of the ongoing challenges these community-led water systems face in Puerto Rico.
Digging Out of Hurricane Fiona
In the Camino Los Pagán sector in Adjuntas, landslides from Hurricane Fiona knocked out drinking water service. Orlando Peña, small systems manager for the community aqueduct in Camino Los Pagán, was able to restore drinking water service just a few days after the hurricane. "The landslide caused damage to our Aqueduct's solar power system and security fence," says Peña. "It also broke the plumbing system that carries water to the different tanks, on top of covering the area with mud."
Many community-led water systems in Puerto Rico are managed by volunteers who live in the community. In the case of Camino Los Pagan, volunteers from the community and other organizations came together to clean up the area. "We were able to temporarily repair what had been damaged. The repairs restored water service to the 10 families that currently receive water from this system, and will be able to extend our service to more households." Water service was restored within days. But despite the ability of these small systems to come back online, challenges remain.
"Some of these systems are currently using solar power," says Dr. Fuentes. "The rest either use diesel generators, which gets very expensive quickly, or have to rely on Puerto Rico's energy grid." For water systems that charge users as little as $5 per month, the cost of even just a few days of switching to diesel fuel during a power outage can wipe out their monthly maintenance budget. Following Hurricane Fiona, one system reported spending upwards of $250 per week on fuel alone while they waited weeks for energy to be restored. Other challenges include regulatory hurdles, costly testing requirements, and a competitive federal grants system that makes it difficult for leaders to apply for and get long-term financing for maintenance and supplies.
While Hurricane Maria triggered international support for the island, what's needed going forward is consistency. "Communities need support that is durable and long-lasting," says Dr. Fuentes. "That's one of the goals of our Center, to listen to their needs and be consistent in our approach to building up their capacity."
Building Capacity
In August, the Syracuse University Environmental Finance Center (SU-EFC) Water Resiliency team met with community leaders in Lago Las Curias, Sector Buenos Aires (Caguas), and San Lorenzo (Caguas), Puerto Rico. Led by Dr. Kaira Fuentes, SU-EFC's Caribbean Program Manager, the team hosted a day-long workshop on Saturday, August 6th, bringing together nearly 40 representatives from over 10 small water systems across Puerto Rico. Presenting at the workshop was SU-EFC's new Director of Water Resiliency, Khristopher Dodson. Also participating in the events was Elaine McCarty, Associate Director of Environmental Finance Center West (EFC West), and Patrick Lynch, Program Manager at SU-EFC. The EFC visit came just two weeks after US EPA Administrator Michael S. Regan paid a visit to the island to meet with several leaders of community aqueducts.
Community Water
Over 240 registered community-led water systems in Puerto Rico provide water to more than a hundred thousand residents.Though these systems face their own unique challenges, they have a history of coming together following natural disasters like Hurricane Maria. As the island continues to struggle to address system-wide failures in the electricity sector, these small wells may be the best answer for rural communities.
"Puerto Rico has suffered from years of disinvestment in its water infrastructure," said Dr. Kaira Fuentes. "Of the two million people living in the U.S. without basic access to safe drinking water and sanitation, one in eight live in Puerto Rico. It's both a national problem and an island problem."
"Increasingly, we are seeing local leaders, the majority of whom are women, taking ownership of their small water systems. The drinking water they are providing is not only typically free or low-cost for families, but can also be safer and more reliable than the water delivery systems people had previously. As the climate changes and severe storms continue to challenge the Caribbean region, these small, locally-run systems can help communities in Puerto Rico not only become more resilient but also welcome back new residents."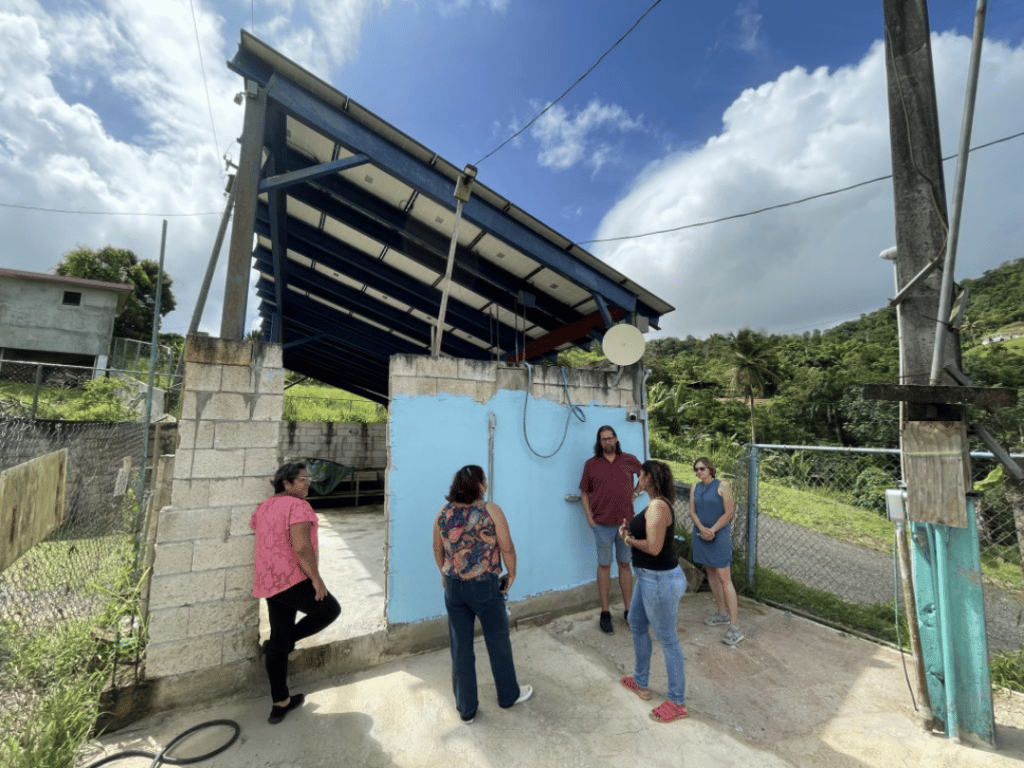 Voices of the Community
During their time in Puerto Rico, the EFC team met with the President of the NON-PRASA Aqueduct Systems Organization of Puerto Rico. Corp (OSAN), Miriam Matos Diaz. Matos Diaz previously hosted EPA Administrator Regan during his visit to the island. The EFC team also met with Professor Ortiz from the University of Puerto Rico at Rio Piedras and a team of students to discuss a pilot project they're carrying out this year to test the water quality of Lago Las Curias, in partnership with local community leaders.
To celebrate and acknowledge the work being done in Puerto Rico, SU-EFC launched a short bilingual video on its YouTube Channel on September 27, 2022.