Written by:
Mandy Westerdahl, Communications Manager, Syracuse University Environmental Finance Center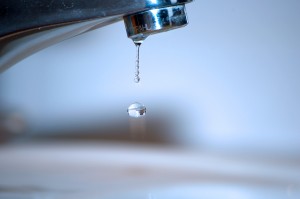 Drinking Water Week, observed May 1-7 this year, is a chance for water professionals, educators, and communities to raise awareness and celebrate the value of water.
"Tap water: less than a penny. So much less that I could give all 2,000 of you a glass just like this one, and it would cost only 90 cents. If instead I gave you all a bottle of water, it would cost over $1,400. The difference? How we value water," said Heather Himmelberger, Director of the Southwest Environmental Finance Center, as she gave a TEDx talk in Albuquerque, New Mexico in September 2014. "Water is the foundation upon which everything else is built–our health, our quality of life, our jobs, our recreation, even our entertainment," she continued. "If the water infrastructure crumbles, we'll lose everything else with it."
If you're like me, you probably don't think twice when you turn on the faucet and out comes clean, safe water. Thanks to the affordability, convenience, and reliability of tap water, it is easy to take for granted. But as we have heard time and time again, water infrastructure in communities nationwide is aging and in need of repair and replacement—more than $600 billion dollars worth, according to the U.S. EPA. That is why it is more important than ever to garner public support for water infrastructure investment.
For more than 35 years, Drinking Water Week has been sponsored by the EFCN's partner, the American Water Works Association (AWWA). The observance of Drinking Water Week was federally recognized in 1988 in a presidential proclamation 5809 signed by Ronald Reagan.
Not sure what you can do to celebrate? Visit the AWWA website for celebration ideas and join the more than 100 utilities, cities, organizations, and others that have logged their plans to participate this year. You will also find promotional and educational materials, information on artwork and photo contests, municipal proclamations, and more available for download to help jumpstart your planning.
Additional Ideas:

State Agencies:
Recognize outstanding water systems and operators. The Washington State Department of Health has been recognizing water professionals during Drinking Water Week since 2003.
Follow Virginia's lead, and ask your Governor to make a proclamation to officially establish Drinking Water Week in your state.
Public Utility Districts:
Create a video PSA to raise awareness.
Committees:
Host a Water Week Fair.
Create educational materials for schools and the public.
"Today, behind every drop of good drinking water are dedicated individuals such as scientists, engineers, elected officials, water plant owners and operators, regulatory officials, and citizen groups, whose unceasing efforts allow us to enjoy the world's best drinking water."- Ronald Reagan in his 1988 presidential proclamation