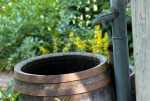 Lac Courte Oreilles (LCO) Casino Convention Center
13767 W County Highway B, Hayward, WI, 54843
Date: 2/18/2014
Time: 8:00 AM – 4:30 PM
 Partners: WISCAP and IHS. This workshops will be held as part of a larger Conference.
Asset Management enables a water system to meet customer expectations at the most appropriate cost by improving the efficiency of operation and management. This training provided an overview of the five core components of Asset Management: the current state of the assets, level of service, criticality, life cycle costing, and long-term funding strategy.  The training included a blend of presentations, videos, and interactive exercises to enable participants to gain a greater understanding of each of the components.  Implementation strategies were also discussed throughout the training to enable water systems to get started with asset management after the training.
PowerPoint Presentation: An Introduction to Asset Management and Energy Efficiency