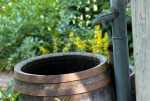 St. Leo's Hall
109 S. Main St., Waterbury, VT 05676
Date: October 7, 2013
Time: 8:30 AM – 4:00 PM
Partner: Vermont Department of Environmental Conservation
This training is a multi-media, interactive event to provide communities with the necessary tools to better manage their water systems in tough economic times.  The workshop will provide simple, practical knowledge for water system operators and managers to start implementing asset management activities in their own communities. Participants may contact the instructors after the training to address questions that arise.
All participants will be provided with an electronic copy of the Asset Management Manual.
Six (6) Training Contact Hours (TCH's) have been approved for VT water system operators
For a copy of the workshop flyer, please click here.
Agenda
8:30 – Networking
8:45 – Introductions
9:00 – Overview of Asset Management
Core Component 1: Current State of
the Assets – Presentation & Workshop
10:30 – Break
10:45 – Core component #2: Level of Service
Presentation & Workshop
12:00 – Lunch
1:00 – Core Component #3: Critical Assets – Presentation & Workshop
2:00 – BREAK
2:15 – Core Component #4: Life Cycle Costing – Presentation & Workshop
3:15 – Core Component #5: Long Term Funding Strategy
3:45 – Wrap Up
4:00 – Adjourn
PowerPoint Presentation: Asset Management Core Components