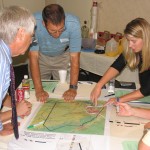 Registration Deadline: September 12, 2013
Curtis Menard Sports Center
1001 S Mack Dr, Wasilla, AK 99654
Dates: September 17 – 19, 2013
Times:
Tuesday – Wednesday: 8:30 AM – 4:30 PM
Thursday: 8:30 AM – 3:30 PM
This Managerial, Financial, and Leadership Academy for small water systems will cover a comprehensive set of topics related to how to better manage, finance, and lead a water system.  The short school is modeled upon the concept of the operator short schools and will include a wide variety of topics using interactive presentations and workshops, including asset management, rate setting, communication, general finance, and goal setting.  This three day workshop will provide managers, elected officials, and owners tools for how to better manage their water systems in tough economic times.  While this program is primarily geared for individuals who own or manage water systems, operators are welcome to attend.
For a copy of the workshop flyer, please click here.
For a more detailed list of topics, please take a look at the draft workshop agenda here.
**This three-day workshop was approved for 2.0 CEUs (or 20 hours of training). Partial attendance will result in partial credit.**