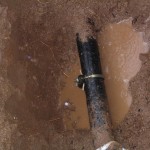 HOLIDAY RESORT & SPA GUAM
881 Pale San Vitores Road, Tumon, Guam 96913
Dates: 07/23 – 07/25/2013
Times: 8:30 AM – 4:30 PM
Partners: Guam EPA — Drinking Water Division, Southwest EFC, & EFC@UNC-Chapel Hill
This training is for drinking water systems serving 10,000 or fewer customers interested in managing their assets in tough economic times, reducing water loss, and improving energy management while maintaining good water system finance.
Session 1: Managing Your Utility in Tough Economic Times
Tuesday, July 23, 2013
Instructor: Heather Himmelberger – Southwest Environmental Finance Center

As the requirements of the Safe Drinking Water Act get more stringent and the operating revenue decreases, it becomes more challenging to effectively manage a water utility. This training will explore asset management principals and techniques to assist water utilities in meeting these challenges. The training will include a blend of presentations, hands-on exercises, and peer to peer learning.
Session 2: Maximizing Water System Efficiency
Wednesday, July 24, 2013
Instructor: Heather Himmelberger – Southwest Environmental Finance Center
Improving water system efficiency by reducing water loss and energy consumption can produce major benefits for the water system.  Costs associated with water loss and energy represent two of the largest controllable costs for water systems.  Reducing water loss and energy use as much as possible will help improve system efficiency and reduce water system expenses.  This workshop will discuss how to determine the nature and extent of the water loss,the potential to improve the situation and methods to reduce water loss.  The workshop will also discuss how to inventory energy using assets, how to select projects that have the potential for energy savings, as well as some examples from other water systems.
Session 3: Water System Finance
Thursday, July 25, 2013
Instructor: Glenn Barnes – Environmental Finance Center at UNC-Chapel Hill
This training focuses on how to pay for water systems. Topics will include budgeting for water, controlling costs, capital planning, available loans and grants, and raising revenue. While operators are welcome, this workshop is best suited for individuals who make financial decisions on behalf of water systems.
PowerPoint Presentations:
Energy Management:
– Special Financing Models for Energy Management Projects
Rates and Finance:
– Water System Finance 101
– Assessing Financial Condition: Where Are You Now?
– Capital Planning: Where Is Your System Going?
– Controlling Costs
– Revenues