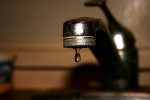 Woodward Park Regional Library
944 East Perrin Ave, Fresno, CA 93720
Date: 12/17/2013
Time: 9:30 AM – 3:30 PM
Small water utilities face decisions that impact the long-term ability of their utility to provide safe and adequate drinking water to their communities each and every day.  These decisions impact the current and future health and economic conditions of the community.  But making these decisions is harder and harder in times of limited financial and water resources. Some of the common concerns facing small water utilities include:
– How to manage a water system in times of limited resources
– How to deal with aging infrastructure
– How to deliver your message to your customers so they will support your utility
– How to decrease water lost through the pipes
– How to decrease water loss leading to lost revenue
– How to address decreasing water supplies related to drought
Under a grant from U.S. EPA the EFCN offered a series of 1 day workshops using a variety of techniques and tools to help small water systems address common concerns.  The workshops were developed for elected officials, board members, utility managers, owners, and public works directors.  In this series of  2 -3 workshops participants learned techniques to assist in improving their decision-making. The workshops also offered the participants an opportunity to share common concerns and explore tools, and techniques to help address those concerns.